Internet Explorer is no longer supported. We recommend upgrading to Chrome, Safari, or Microsoft Edge browser.
Decorating Basketball Apparel
When teams hit the hard court, your T-shirt business has great opportunity to score sales heat pressing custom transfers for uniforms, practice jerseys, fan apparel, and more. Watch video for basketball apparel ideas.
Basketball Uniforms
Decorate Uniforms for:
Junior high and high school
AAU, church, and other organizations
Adult and youth recreation leagues
Transfer Type Recommendations:
Names and Numbers Recommendations:
Use combination of digits 0-5 for team numbers (most leagues require)
Include player number on both sides of jersey (most common)
Front of jersey (high school leagues): Arch or straight team name plus number
Back of jersey (high school leagues): Player name and number
Tip: Ask your customer if the basketball uniform includes a decorative side panel. If so, your print may need to be a little smaller.
Common Names and Numbers Sizes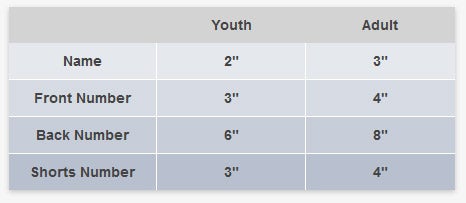 Add Player Numbers to Basketball Clip Art/Design
Customize practice jerseys, shorts, and warm-ups
Order 1"-3" number sizes with Express Names™ (enter player numbers instead of names)
Heat apply basketball design, position numbers, and press again
Reversible Practice Jerseys
Use cover sheet between layers to print on all four sides of jersey
Get price break: Order same transfer with color change
(Ex: order of 10 white and 10 royal = 20 piece price break, plus color change)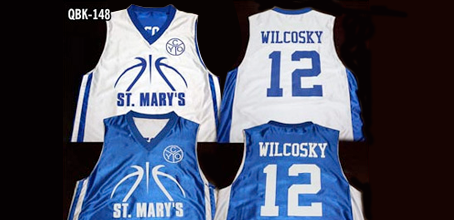 Cinch Sacks
For carrying game shoes (common league mandate)
Shooter Shirts
Popular for high school and travel
Use motivational phrase with custom transfer basketball layouts
Warm-Ups
Tops: Left chest (heart) design
Sweatpants: Left chest design on thigh or large design down side of pant leg
Coaches Shirts
Left chest logo
Use gang sheets to save on costs
Fan Wear Tips
Carry extra logos to sell as fan wear (T-shirts, rally towels, etc.)
Instead of player number, add "Mom" or "Dad" inside basketball clip art/design
Keep numbers in stock so fans can show support for their favorite players
Tournaments
Adapt basketball custom transfer layouts for tournament t-shirts
Use list layouts to add participating teams on back of t-shirt
Victory T-Shirts