Internet Explorer is no longer supported. We recommend upgrading to Chrome, Safari, or Microsoft Edge browser.
Screen printed transfers from Transfer Express® are printed on release paper with gridlines that make heat-application to a split front jersey easy. Follow this step-by-step guide to learn how to use these grid lines when decorating split fronts.
Pre-Order Tips:
For best results, use jerseys with buttons spaced 6" apart.
When ordering screen printed transfers, make sure the center of the design is sized to fit the jersey space that falls between two buttons.
Application
Step 1
Cut the transfer/design in two. Usually, you will need to cut the design just left of the center so the cut matches the split front of the jersey.
Tip: Avoid cutting through a letter.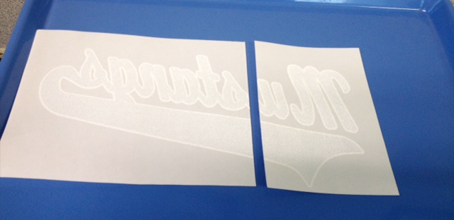 Step 2
Keep the jersey fully buttoned and place it on the bottom platen of your heat press. Adjust the pressure setting accordingly to compensate for buttons. Pre-heat the jersey.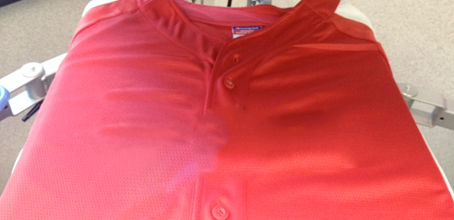 Step 3
Use the gridlines on the transfer to position the two halves of the transfer on the jersey. Then heat press the transfer onto the jersey.
Tip: Be sure to line up the edge of the transfer with the split.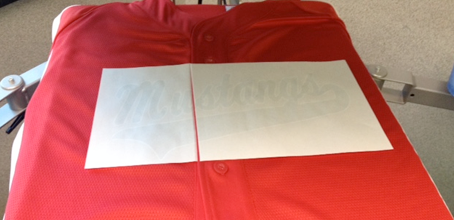 Step 4
Peel the release paper from the right side of the jersey only.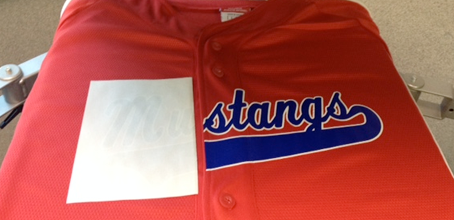 Step 5
Unbutton the jersey and open it, leaving only the left half on the platen.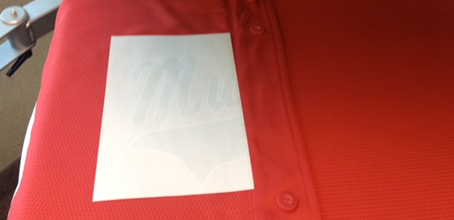 Step 6
Heat press the jersey again. Then peel the release paper from the left half of the jersey.