Internet Explorer is no longer supported. We recommend upgrading to Chrome, Safari, or Microsoft Edge browser.

Get a Free Sample Pack
Get a free Distress sample pack to see and try them for yourself. The pack includes one of each distress pattern in the Goof Proof screen printed transfer type.
Add Distress Pack to Cart
You can add a distress special effect right in Easy View online designer.
Distress is an easy way to make your design look vintage.
You can add distress to any layout you want to, but since distress is the absence of ink, it works best with layouts with large areas of ink.
If the design has small detail or small text, it may get lost in the distress.
There are 5 distress patterns available to choose from: Rain, Splatter, Grunge, Leather, and Crackle.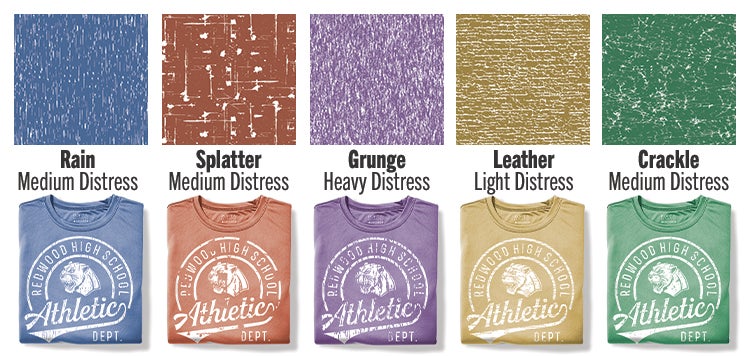 Distress patterns work best with our standard inks - Goof Proof® and Hot Split Retro.
Due to their viscosity, some of the specialty inks spread a little more, causing distress patterns to lose their effectiveness.
Elasti Prints®, Pearl Prints™, and Glitter are not recommended to use with distress effects.