Internet Explorer is no longer supported. We recommend upgrading to Chrome, Safari, or Microsoft Edge browser.
Getting the Most from Your Transfer Sheets
Our pricing structure is simplified to "Sheet Pricing".
This means you are able to put multiple images on a sheet of paper without incurring any additional fees. You simply pay per sheet, regardless of how many of the same or different images you put on that sheet.
Then, just cut out each image on the sheet for separate applications.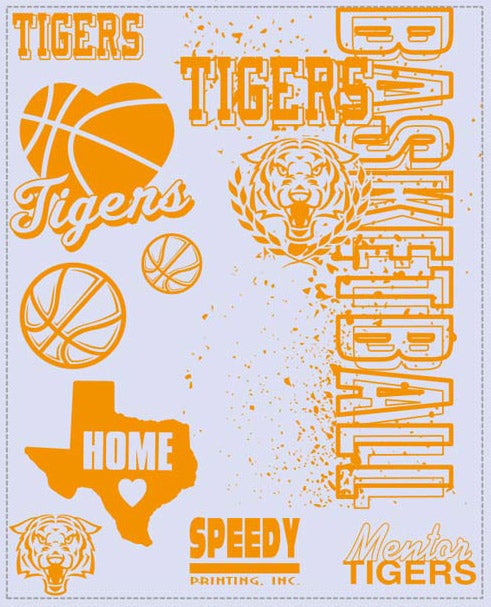 Prices are per sheet. Add as much as you can fit on a sheet.
Our standard screen printed transfer sheet size is 11.25" x 14" (Jumbo sheets 12.5" x 17.5" available for Goof Proof®, Hot Split Retro, and Elasti Prints®)
All screen printed transfers can be ganged
Images/art should be the same color(s)
We offer a cut apart charge for single images at $0.15 per image — great for cap and heart-sized designs in large volumes
UltraColor® full color transfers can also be ganged with a sheet size of 11.5" x 18"
If you are not sure of the best way to group your orders, our Customer Service will help you find the most cost effective way to place your order.
Use the Gang Sheet Calculator to determine how many designs fit on a sheet.
So next time you place an order for a single adult sized image (approximately 11" x 11" on average) make sure you add some clip art, left chest images, logos, or T-shirt tags, because they won't cost you a single penny extra.
Or split that sheet up and fill up half the sheet with one design, and the other half of the sheet with another design.
Fill up the space as much or as little as you like – it's your sheet, your way!
See Gang Sheets in Action
Watch to see how Dave decorates an entire suite of custom printed merch and apparel for a golf outing using gang sheets.
Design your sheet now in Easy View