Internet Explorer is no longer supported. We recommend upgrading to Chrome, Safari, or Microsoft Edge browser.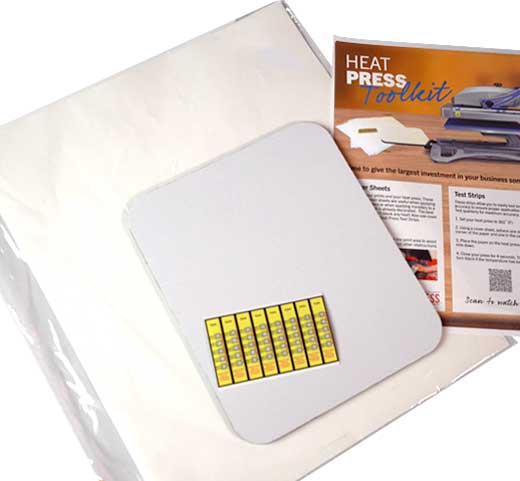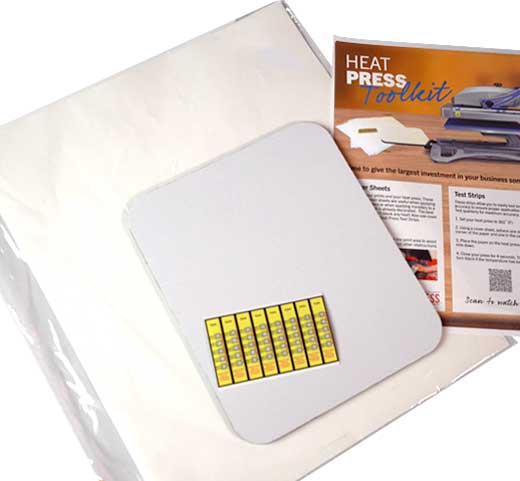 Heat Press Tool Kit
May Special: the heat press accessories you need at a special bundle price.
Month of May Special
There are a few heat press accessories that will make your heat printing efforts more successful.
This limited-time bundled kit will give you those items you need at a special price of $15 during the month of May.
This kit includes:
Heat Press Test Strips (8 strips): Make sure your heat press is reading accurately in terms of temperature. One of the most common application failures is that your heat press is actually not heating up to the temperature you think it is. These strips will let you know of any temperature issues your heat press is experiencing.
Mouse Pad (1 pad): Use a mouse pad to help raise the print area to avoid seams, buttons, zippers, and other obstructions while heat printing. The mouse pad can be cut up into smaller pieces to fit in those hard-to-get-at print areas.
Cover Sheets Pack (10 sheets): There are times that you need cover sheets unexpectedly. Have a pack on hand for those necessary times. Whether you need to hit an application for a second time, or cover up areas that you already printed during a second print area, you'll be glad you had them on hand when you need them.
Order now while you can get all 3 together at a lower price.
Please select samples or add an Other sample type and try again.
Questions
Why should I test my temperature and pressure of my heat press?
The key to proper application is the correct time, temperature and pressure for the material you are heat applying.
If you have too much pressure, it may result in strikethrough. Not enough pressure may affect the material's adhesion.
Temperature is just as important for the transfer to adhere to your apparel. Accurate temperature is needed and these temperature test strips will let you know if your heat press is reading correctly.
This Tool Kit pays for itself quickly by preventing you from ruining shirts.
Be confident that you are giving great quality products to your customers.