Internet Explorer is no longer supported. We recommend upgrading to Chrome, Safari, or Microsoft Edge browser.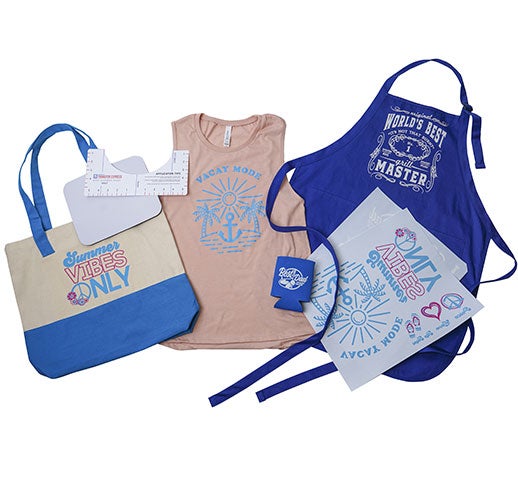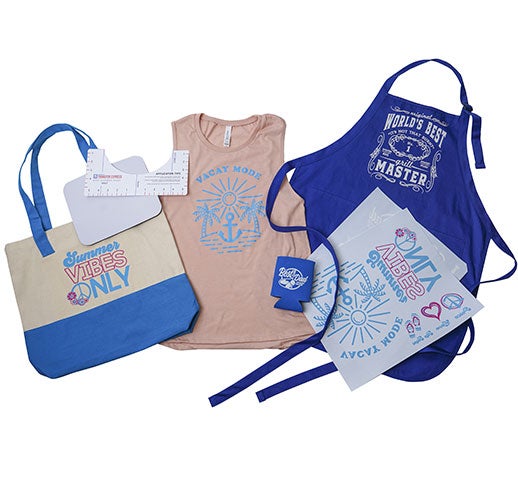 Toast to Transfers Pressing Kit
Get apparel and heat transfers to press during the event
Summer Edition!
Join us for a casual live webinar event where you can print items along with us for an evening of fun and learning.
It's like a Wine and Paint night, but with heat printing instead.
All you need is a heat press, your favorite beverage, and we'll provide the rest in the kit.
Get the Toast to Transfers pressing kit for all of the items we'll be pressing during the live webinar, including the transfers.
For this edition, the kit includes:
tank top
beach tote bag
apron
can cooler
Placement Ruler
Mouse pad for application
Goof Proof® screen printed transfer sheets
We'll apply each item and show you some application tips on tricky apparel items and how to use a mouse pad as an application tool.
These items will be great examples that you can then show to your customers for some summer sales.
Buying this pressing kit will also automatically register you for the event on May 26th at 7 pm ET.
But hurry - this kit is only available while supplies last or until Friday, May 20th.
So grab your favorite beverage, and we'll see you there!
This kit also includes free shipping!
Please select samples or add an Other sample type and try again.