Internet Explorer is no longer supported. We recommend upgrading to Chrome, Safari, or Microsoft Edge browser.
What is the Easy View® Designer?
Easily Create T-Shirt Designs for Transfers
Easy View® is a free online design tool to design and order custom heat applied transfers from Transfer Express.
Easy View designer is loaded with the Easy Prints® artwork collection, complete with over 7,000 customizable layouts, 10,000+ clip art, and over 200 fonts.
Easy Prints layouts are created so that you can easily customize each layout and make it your own unique design.
The Easy View designer makes this customization simple. With a few simple clicks, you can swap out clip art, fonts, and add your own text. There are so many options to create your custom t-shirt design.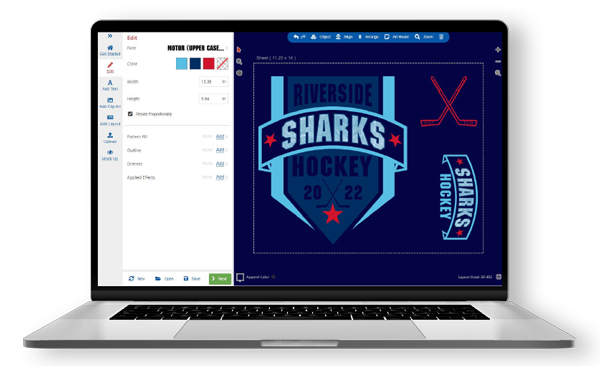 Not only can you use Easy View designer to customize our Easy Prints artwork, but you can also add your own artwork into Easy View designer to create your heat transfer design.
This makes it easy to customize a layout in Easy View designer, and also add your own clip art or logo with the design layout.
Easy View designer is the all-in-one heat applied transfer designer. With Easy View designer, you become your own artist even if you can't draw a stick figure.
Easy View Designer Helps You Sell
After your design is created, create a mock-up image on a t-shirt or other blank item available from Transfer Express's apparel line.
Then you can download the mock-up design so you can send it to your customer or post it on your website and social media.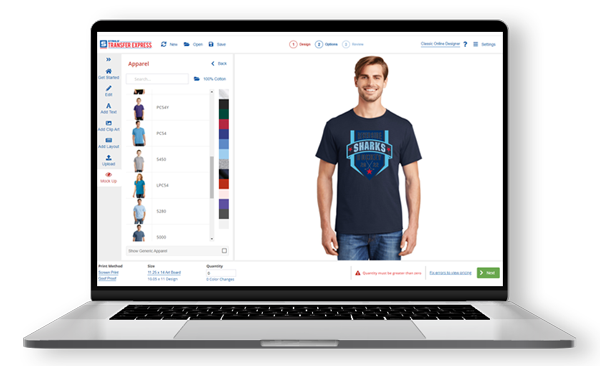 Easy View Designer Makes Ordering Fast and Easy
Ordering your heat transfers and blank apparel from Easy View designer is just as quick and easy as designing. When you are ready to order your transfers, add your blank apparel items to your cart, too.
Easy View designer makes running a t-shirt decorating business easy by removing the pains and struggles associated with creating artwork, creating mock-ups, and managing orders. You don't have to learn any complicated or expensive art programs, either.
How Do I Start Using Easy View Designer?
All you need to start using Easy View online design center is a Transfer Express account.
There are never any charges for Easy View designer and there are no commitments. No credit card is needed to sign up.
So sign up for a free account and get started designing immediately!
Sign Up to Try Easy View Designer