Internet Explorer is no longer supported. We recommend upgrading to Chrome, Safari, or Microsoft Edge browser.
Based in Mentor, Ohio, Transfer Express®, Inc. manufactures custom heat applied transfers that apply with a heat press to apparel and more. Our transfers are used by athletic apparel dealers, T-shirt retailers, and many other markets in the U.S. and Canada. We are also a provider of blank apparel.
We are your one-stop shop for decorating apparel.
Our screen printed transfers offer a cost-efficient method to decorate apparel with a screen printed look without the hassle of the screen printing process.
In addition to heat applied transfers, we offer much of what is needed to help you operate a successful T-shirt business, including:
Become a Transfer Express Customer
Start a T-Shirt Business with Screen Printed Transfers
Purpose
Helping our customers grow their custom apparel businesses is our number one priority. Everything we do is focused on making sure our customers get high-quality, fashionable custom transfers on time and on budget.
Our management team endeavors to keep Transfer Express competitive. We do this by using the latest in manufacturing, sales, and marketing techniques and investing in our greatest asset, our employees. The future shows much promise and plenty of room for growth as our company continues to succeed year after year.
Awards & Recognition
14 time winner, including 2021
Honored as a NE Ohio manufacturer that demonstrates the ability to adapt to the changing world and take manufacturing to the next level
Group Safety Award
Achievement Award
2009 Special Award
21 time winner, including 2021
History
Incorporated in December 1990, Transfer Express, Inc. was formed by two principals, Stahls', Inc. and Weaver Screen Print, Inc. Both companies started out in the Midwest as mom and pop shops, offering decorating services to the sports apparel industry.
About Stahls'
Detroit, MI, 1932: Stahl's begins as a family business, operating out of the garage of A.C. and Ethel Stahl. Known as Commercial Art Products in 1932, one of Stahls' first products sold was chenille lettering sown on a felt background.
Today, Stahls' is known as a major leader in pre-cut and custom athletic numbers, letters, and logos for sports and custom apparel.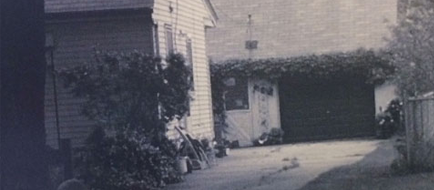 The family garage of A.C. and Ethel Stahl, Detroit, MI
About Weaver Screen Print
Mentor, OH, 1978: Mark and Helen Weaver begin Weaver Screen Print by selling garment lettering services to northeastern Ohio sporting goods retailers. Business continues to grow through 1981 when Weaver Screen Print is incorporated.
1985-1988: Mark and Helen's son Tim becomes involved in the family business. Mark and Tim attempt to expand business profitability by manufacturing custom transfer products. The product line is successful and by1988, Weaver Screen Print fully transitions to offering custom transfer products only.
1990: Weaver Screen Print and Stahls' begin to co-market custom transfers. In December 1990, the two companies form Transfer Express, Inc.
2004: Transfer Express becomes a wholly-owned subsidiary of GroupeSTAHL.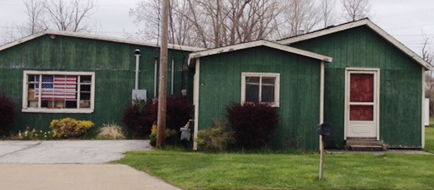 The original storefront of Weaver Screen Print, Mentor, OH