Internet Explorer is no longer supported. We recommend upgrading to Chrome, Safari, or Microsoft Edge browser.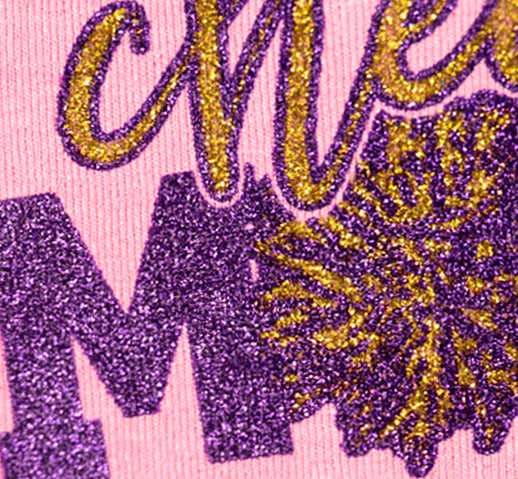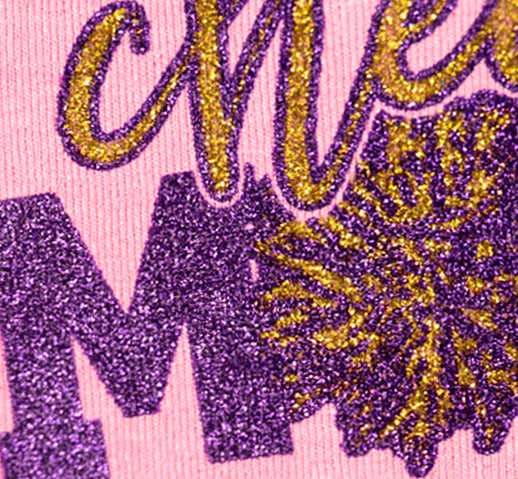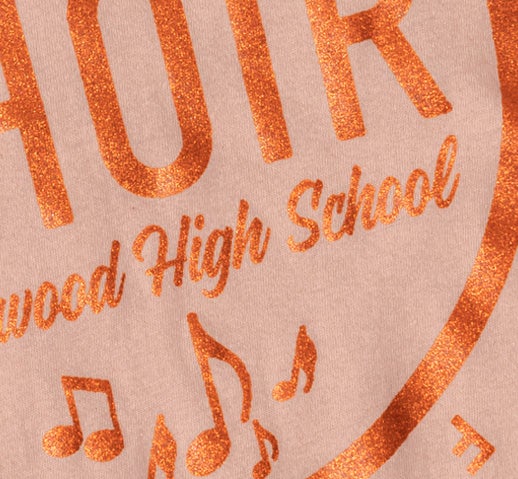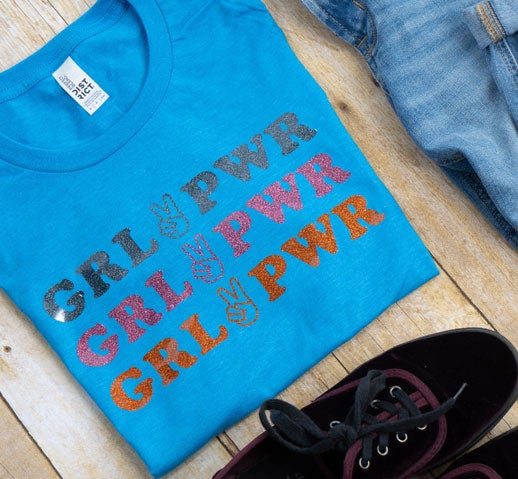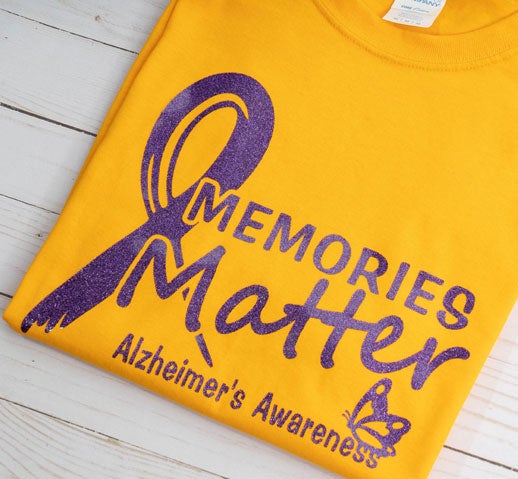 Glitter Screen Printed Transfers
The latest trend in screen printed transfers.
This transfer type has been discontinued July 28, 2023.
Glitter screen printed transfers add sparkle to your design and can be applied to any color apparel.
Ideal for cheer, spirit, and fashion wear
Looks best with large, bold designs.
Create a rhinestone effect with Glitter transfers and a dot pattern (faux rhinestone).
Multi-color transfers can be screen printed in 2-10 glitter colors.
Glitter transfers can be used with glitter colors only
Recommended Fabrics: Cotton, polyester, poly/cotton blends.
Artwork Guidelines
Screen printed transfers require vector artwork.
You can send us vector artwork and we can print it as is or with adjustments.
You can send us raster artwork that we will redraw/convert to vector.
Send us the best artwork that you have.
1. Size: Maximum is 11.25″ x 14″. Although not required, it is a good idea to send us your file at the size you want it printed.
2. Text: Convert all text to curves/outlines before sending.
3. Colors: We use spot colors for screen printing. You can use spot colors when creating art, but it is not required. Use consistent colors in your file.
4. Line Thickness: minimum of .025″ for printed areas.
5. Show-Thru Thickness: minimum of .04″ for non-printing areas
6. Special effects: Some special effects such as fades and shading can't be produced with screen printing. Consider digital transfers if your art contains these.
We accept the following file types:
.AI, .JPE, .JPEG, .JPG, .PDF, .PNG, .PSD, .SVG, .TIF, .TIFF, .TXT
Adobe Illustrator® - all versions
Adobe Acrobat® (PDF) - all versions
Jpgs (photos) - we will redraw these types of files in a vector format
Photoshop® - all versions
Tips / Application
Pre-Production
Please check transfers carefully before heat-applying.
Set Temperature
Set the press to 365°F
Pre-Heat Garment
First, place the garment on platen, heat press for 3-5 seconds or until there is no more steam to remove wrinkles and moisture. Ensure there are no obstructions such as buttons, pockets, or seams. If there are, raise only the print area with a Print Perfect Pad.
Position & Press
Place the transfer face down on the garment. Close the heat press and heat for 15 seconds.
Peel Cold
Open the press and remove the shirt. Allow to cool completely to the touch. (This may take several minutes to cool completely.)
Peel the carrier in a smooth, even motion.
Note: The recommended time, temperature, and pressure settings are for Stahls' Hotronix® heat press machines. Settings on other heat presses may vary.
Time

15 Seconds

Temperature

365°F

Pressure

Medium/Firm 6-8 (60-80 psi)

Peel

Cold
Questions
Can I order Glitter transfers in more than one color?
Yes, the ten Glitter colors can be used on one transfer. However, Glitter cannot be combined with other ink types.
Can the glitter product be applied on black fabric?
Yes, the glitter can be applied to any color. We have samples if you would like to test.
What is the shelf life of your transfers?
The transfers have indefinite shelf life when stored in proper conditions. It is not recommended storing them in areas with high humidity or high temperature.
Do you have transfers that are heat seal and look like rhinestones? I want school names to press on t-shirts.
We have some faux rhinestone layouts that are a dot pattern printed in glitter ink.
On what types of fabrics can screen printed transfers be applied?
Screen printed transfers can be applied to cotton, polyester, or poly/cotton blends.