Internet Explorer is no longer supported. We recommend upgrading to Chrome, Safari, or Microsoft Edge browser.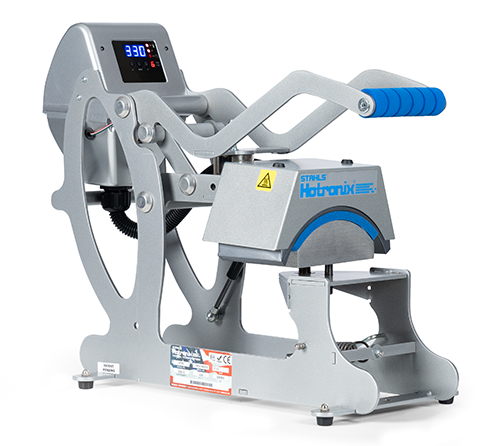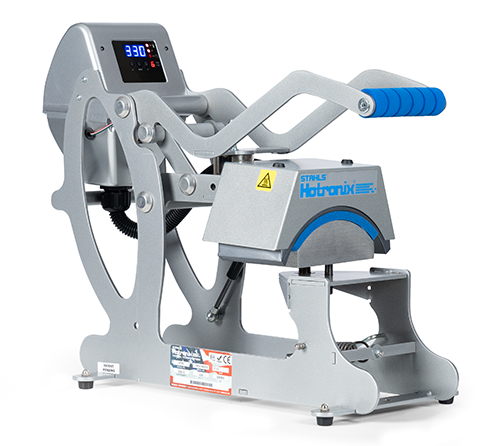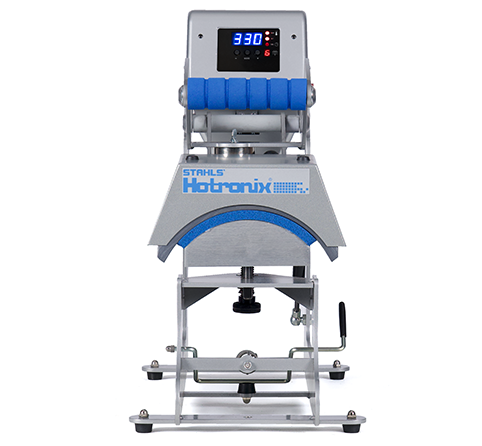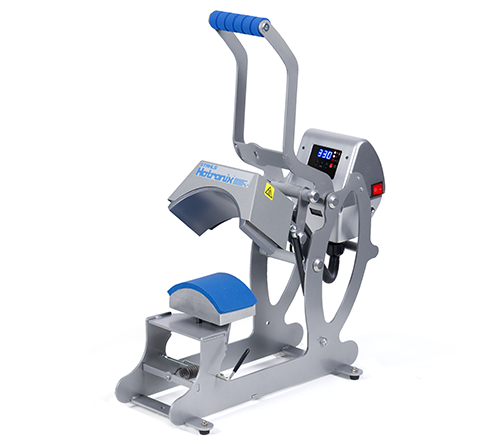 Hotronix® Auto Open Cap Heat Press
Quickly and easily heat apply designs and logos onto caps.
Multitask without the fear of ruining caps with this heat press's auto open feature. A cap hold-down device pulls the front of the cap taut, securing it while providing a smooth surface for heat applications. Decorate a variety of cap styles with four optional Quick Change platens.
Patented magnetic auto open feature
Space-saving design
Digital read-outs
Comes with a quick-change 3.5" x 6" lower platen.
Additional interchangeable cap platens available for several cap sizes, including low-profile, oversize, and full or low crowns.
To make sure you're getting a Hotronix®, look for the blue!
Gift with Purchase! Free Marketing Kit!
Canadian customers please contact Stahls' Canada at 1-800-521-5255 to purchase a heat press.
Delivery Time
This heat press is currently in stock and ready to ship.
Please select samples or add an Other sample type and try again.
Technical Specifications
Hotronix Premier Warranty
Lifetime Warranty on Heating Element
5 yr on Framework
2 yr on Circuit board
1 yr Parts/labor
Patented magnetic auto open feature
Digital time, temperature, and pressure controls
3/4" thick coated non-stick upper platen
Patented magnetic assist lock down
3/8" silicone pad
Quick-change 3.5" x 6" lower platen
Platinum RTD heat sensor
Generates maximum pressure with less effort
Under-center pressure adjustment
Twin Timers
Cap hold-down device
UL/ULC/CE/ROHS approved
Temp. range 205° - 420°F
°F or °C available
Space-saving clamshell design
Available in 110 volt or 220 volt
4 Amps / 500 Watts
26" x 15" x 20"
41 lbs. ship weight
Cast-in tubular heating element every 2" to eliminate cold spots
Questions
I'm on a tight budget, should I spend extra to get one of the Hotronix® heat presses?
A heat press is the only investment needed to get started in the custom apparel printing business and the key to your success. We recommend getting the best heat press your budget allows.
Should the heat press be locked down while removing moisture or can you just hold the press down?
The heat press does not need to be locked down, but applying pressure does help to remove wrinkles. As long as there is heat being applied to the garment the moisture will be removed.
Seams can cause application problems due to uneven pressure. Some 6-panel hats have inwardly sewn seams for easier application. We suggest testing application over a seam prior to placing your order.
Is it important to use the correct pressure when applying designs to apparel?
The key to proper application is the correct time, temperature and pressure for the material you are heat applying. If you have too much pressure, it may result in strikethrough. Not enough pressure may affect the material's adhesion.