Internet Explorer is no longer supported. We recommend upgrading to Chrome, Safari, or Microsoft Edge browser.
Special Effects for Layouts
Distress
Distress is an easy way to make your design look vintage.
You can add distress to any layout you want to, but since distress is the absence of ink, it works best with layouts with large areas of ink.
If the design has small detail or small text, it may get lost in the distress.
There are 5 distress patterns available to choose from: Rain, Splatter, Grunge, Leather, and Crackle.

Distress patterns work best with our standard inks - Goof Proof® and Hot Split Retro.
Due to their viscosity, some of the specialty inks spread a little more, causing distress patterns to lose their effectiveness.
Elasti Prints®, Pearl Prints™, and Glitter are not recommended to use with distress effects.
---
Simbroidery™ - Add a Simulated Embroidery Look
With the Simbroidery™ effect, realistic looking stitches give a clean embroidered appearance to your artwork.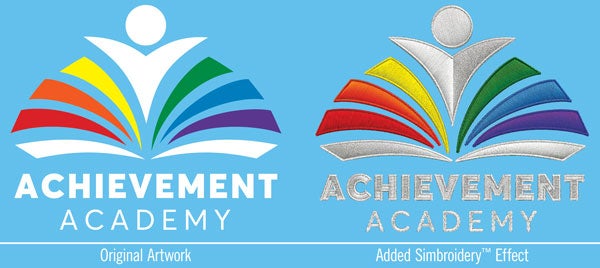 Simbroidery can be added to any full color transfer type including:
UltraColor® Max
UltraColor® Soft
UltraColor® Stretch (and Stretch with Blocker)
all of the CAD-PRINTZ® digital transfers
CAD-PRINTZ® decals
Simbroidery is a perfect effect for hats, small chest logos, jackets, and bags.
It is a visual effect only. There are no textured stitches added. It has no added cost to your digital artwork or digital transfers.
How to Add Simbroidery to Your Transfers
When using Easy View Online Designer:
1. First choose a full color transfer type for the Print Method in the lower left corner
2. Next, click on the "Options" tab at the top of the designer
3. To choose Simbroidery, click on the slider option so that it turns green
When uploading your own art on the Upload Page:
Add in the notes that you would like Simbroidery.