Internet Explorer is no longer supported. We recommend upgrading to Chrome, Safari, or Microsoft Edge browser.
Choosing a Heat Transfer Type
Determine which heat applied transfer type is the best choice for your next transfer order.
View our Product Guide or use our tools below.
Having a hard time deciding which heat applied transfer type to use? Try the Transfer Selector Tool to help find out which transfer type will work best for your next heat printing job with step-by-step help.
Transfer Selector Tool
Restart the Transfer Selector Tool
---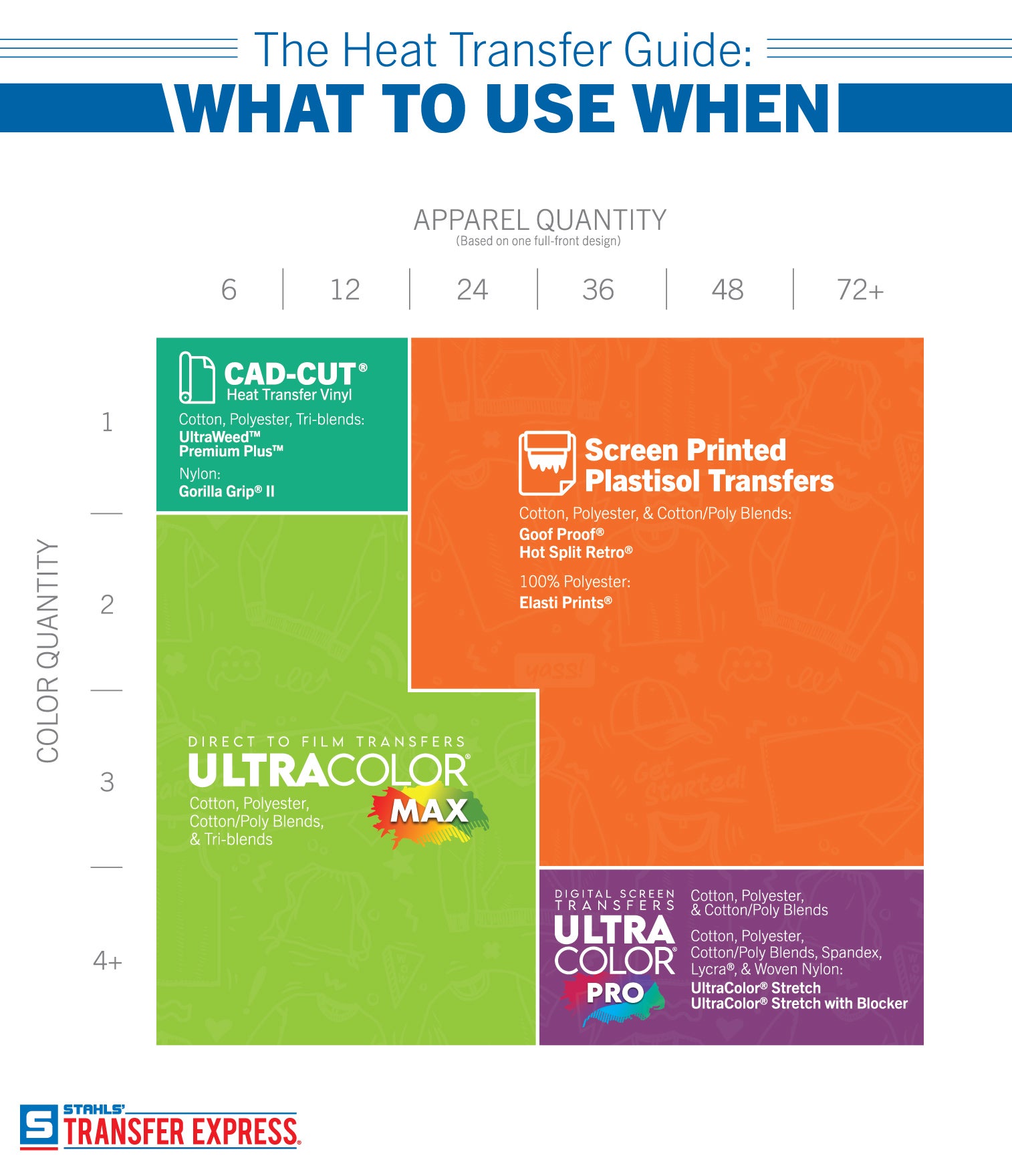 Download this chart and keep it handy so you know which transfer to use for each apparel printing job you have.
Download Chart
---
Screen Printed Transfers
Use Screen Printed Transfers for:
A classic look
1-2 colors, large designs
Cotton, polyester, and cotton/polyblends
Sports and fashion wear
Names and numbers on jerseys
Standard Inks
Finish
Fabric Types
Decorate
Colors
Other Attributes
Instructions
Goof Proof
Opaque, matte
cotton, polyester, cotton/poly blends
Athletic wear
single or multi-color, 70+ stock colors, color matching available
durable, quick application, phthalate-free plastisol ink
4-6 seconds, 365ºF, Medium/Firm, peel hot
Hot Split Retro
Opaque, matte,
soft, light feel
cotton, polyester, cotton/poly blends
thin materials, burnout t-shirts, fashion apparel
60 stock colors
good opacity for fashion apparel
8-10 seconds, 365ºF, Medium/Firm, peel hot
Specialty Inks
Finish
Fabric Types
Decorate
Colors
Other Attributes
Instructions
Elasti Prints
opaque, matte
100% polyester
Heat-sensitive, stretchable performance fabric & moisture-wicking apparel
70+ stock colors,
Color matching available
superior stretch and rebound, high opacity, phthalate-free plastisol ink
15 seconds, 290ºF, Medium/Firm, peel cold
Glitter
sparkled
cotton, polyester, cotton/poly blends
Spirit, dance, cheer, fashion & holiday wear
10 colors, single or
multi-color (2-10 glitter colors)
apply to any color apparel
15 seconds, 365ºF, Medium/Firm, peel cold
Glow-in-the-Dark
milky white in daylight,
green glow in the dark
cotton, polyester, cotton/poly blends
Halloween, birthday parties, bands
single glow color
changes color in the dark
10 seconds, 340ºF, Medium/Firm, peel warm
Puff
3D raised effect
cotton, polyester, cotton/poly blends
Fashion wear
black or white puff, can be with other non-puff standard ink colors
best for large designs
5 seconds, 365ºF, Medium/Firm, peel hot
Pearl Prints
soft, shiny luster
cotton, polyester, cotton/poly blends
Spirit, dance, cheer, fashion & holiday wear
6 colors
durable adhesive
10 seconds, 340ºF, Medium/Firm, peel cold
Foil Adhesive
clear, semi transparent
cotton, polyester, cotton/poly blends
Spirit, dance, cheer, fashion & holiday wear
1 color adhesive
base layer for heat transfer foil
8 seconds, 340ºF, Medium/Firm, peel hot
Heat Transfer Foil
shiny
cotton, polyester, cotton/poly blends
Spirit, dance, cheer, fashion & holiday wear
12 colors
adds color and shine to Foil Adhesive transfer
30 seconds, 340ºF, Medium/Firm, peel cold
| | | | | | | |
| --- | --- | --- | --- | --- | --- | --- |
| Water-Based | Finish | Fabric Types | Decorate | Colors | Other Attributes | Instructions |
| Reflective | reflects direct light | cotton, polyester, cotton/poly blends | safety and fashion wear | single silver reflective | metallic silver during daylight, reflects direct light at night | 15 seconds, 290ºF, Medium, peel cold |
Full Color Transfers
Use Full Color Transfers for:
Full color, photo realistic designs - including shading, fades, and gradients
Cotton, polyester, spandex, neoprene, nylon, and leather
Sublimated apparel (use blocker transfer type)
Short-run personalization
Cost efficient for 3 or more spot colors
Digital Transfer
Finish
Fabric Types
Decorate
Colors
Other Attributes
Instructions
UltraColor® Max
soft, matte
cotton, polyester, cotton/poly blends, triblends, Lycra/Spandex
100% polyester stretchy performance wear
Full color
No clear outline, no quantity minimums ($25 min)
12-15 seconds, 290ºF, Medium, peel hot
UltraColor® Pro
soft, matte
cotton, polyester, cotton/poly blends
100% polyester stretchy performance wear
Full color
Stretch & rebound

cotton, cotton/poly: 10 sec., 340°F, firm pressure, peel hot;

synthetics: 15 sec., 290°F, firm, peel hot

UltraColor® Soft
soft, matte
cotton, polyester, cotton/poly blends
100% polyester stretchy performance wear
Full color
Stretch & rebound
12-15 seconds, 290ºF, Medium, peel cold
UltraColor® Stretch
soft, matte
cotton, polyester, cotton/poly blends, spandex, Lycra®, woven nylon
stretchy fabrics with spandex and nylon
Full color
Stretch & rebound
12-15 seconds, 290ºF, Medium, peel cold
UltraColor® Stretch with Blocker
soft, matte
cotton, polyester, cotton/poly blends, spandex, Lycra®, woven nylon, sublimated polyester
sublimated polyester
Full color
Stretch & rebound, blocks dye migration
12-15 seconds, 290ºF, Medium, peel cold
Soft Opaque
soft, semi-matte
cotton, polyester, cotton/poly blends, nylon & spandex/Lycra®
Promo items (hats, umbrellas, etc.) & performance wear
Full color
Stretch & rebound
15 seconds, 310ºF, Medium/Firm, peel hot
Sub Block
soft
cotton, polyester, cotton/poly blends
Any color sublimated polyester
Full color
Blocks dye migration
20 seconds, 265ºF, Medium, peel warm
Express Prints
soft, matte
cotton, polyester, cotton/poly blends
fashion wear, light or dark-colored apparel

Full color




Fast, low temperature application
5-10 seconds, 250ºF, Medium/Firm, peel hot