Internet Explorer is no longer supported. We recommend upgrading to Chrome, Safari, or Microsoft Edge browser.
Learn everything you need to know about heat printing and the T-shirt business. Sign up for an upcoming webinar or watch a previously recorded session. All webinars are free to attend unless otherwise noted.
Upcoming Webinars
---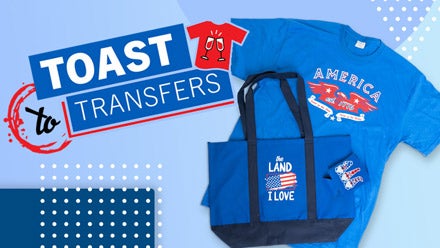 Toast to Transfers
Date: Thursday, July 1, 2021
Time: 7:00 p.m. ET
Host: Transfer Express
Have you heard of events like Wine and Design, Make and Sip, or Brushes and Bottles? They're fun evenings with your favorite beverage while making items in a guided session.
Well now you can do that with screen printed transfers in our Toast to Transfers online webinar event!
Join us for a casual webinar and print a few items alongside with us that are perfect for your 4th of July celebrations.
We will be printing a t-shirt, can cooler, and tote bag. We'll also show you a cool heat printing trick using a mouse pad to raise your print surface, which is a hack that will come in handy quite often for you.
This is perfect for those who are just starting out and want some hands-on learning, or even for those who want to have fun while printing a few 4th of July items.
So get the Toast to Transfers Pressing Kit and grab your favorite beverage, and join us July 1st at 7 pm ET.
Buying the kit will also register you for the event, so watch your email for your registration confirmation and link to attend. This kit ships to U.S. locations only.
Update: The Toast to Transfers Pressing Kit is sold out, but you can still register to join us for the live webinar training to learn how to maximize your profit printing various apparel items with one gang sheet.
Register Now!
---
Previous Webinars