Internet Explorer is no longer supported. We recommend upgrading to Chrome, Safari, or Microsoft Edge browser.
How To Make T-Shirt Mockups For Free | Sell More On Social Media
Need Help? Call us!
1-800-622-2280
Hi, I'm Stefanie with Transfer Express and I am the social media specialist here and today in this video, we're going to be showing you how to use social media to show off your products and get sales.
We're also going to show you how to limit your expenses and limit your financial risks by showing off your apparel through mock-ups.
So let's talk about limiting your expenses and your financial risks. It all comes down to using good mock-ups to sell your apparel on social media and we're going to show you how to do this using the free Easy View online designer tool for Transfer Express customers.
Let's show you how.
How to Use Easy View to Create T-Shirt Mockups
So let me show you how easy it is to create an apparel mock-up here in Easy View.
Now, Easy View is a free tool for Transfer Express customers and you can create any design using the thousands of customizable layouts and clip art available to you in the Easy View online designer.
To create an apparel mock-up, all you have to do in Easy View, once you have your designs created, is click on the mock-up icon over here on the left and you'll see your designs previewed here.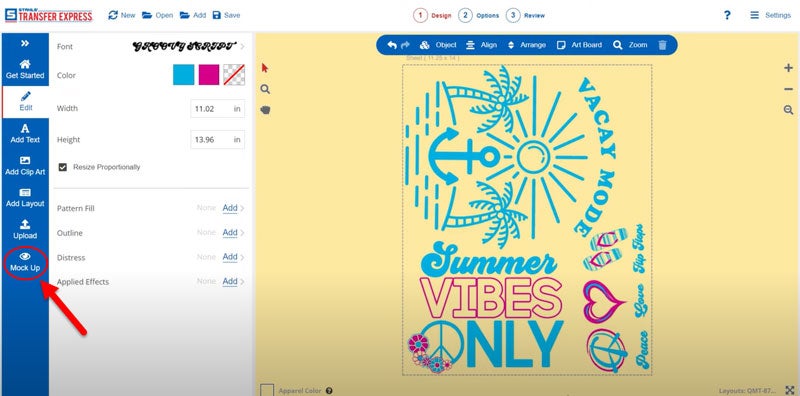 If you have a gang sheet full of images, you'll want to create a selection by dragging your cursor over the design that you want and you're going to click the "Selection Only" button to only display this design needed.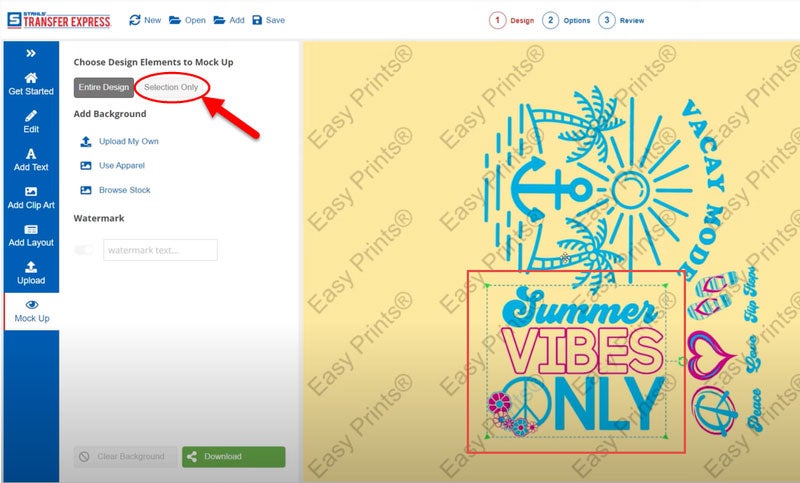 Now, if you want to create your own mock-up using your own images, you can certainly upload your own, then you can choose an apparel mock-up that you have saved on your computer.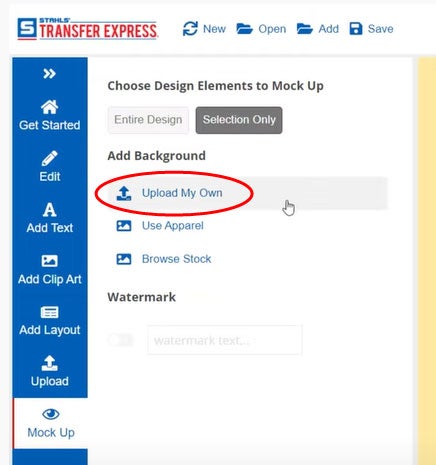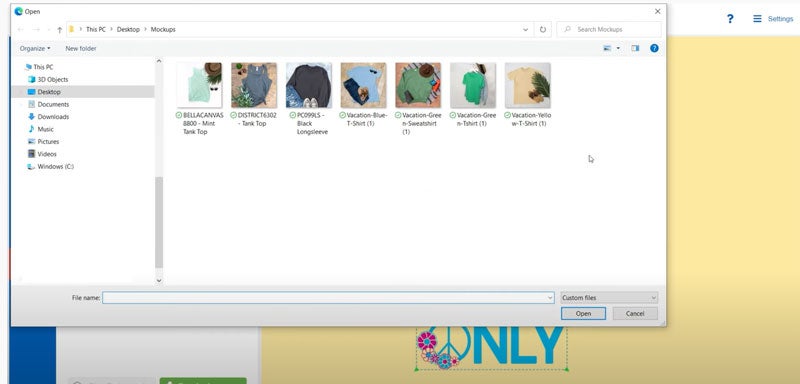 Once you've done that, you can go ahead and create your apparel mock-up super easy by dragging your design where you need it.
And once you're done, you can select "Download".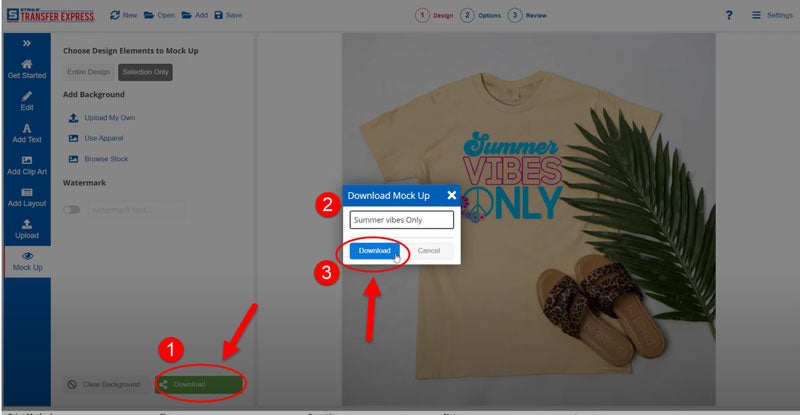 It's that easy.
Now you might be wondering where to find apparel mock-ups like the ones that I was just using there.
You can find those mock-up images at sites like Etsy or other creative marketplace websites. They're available for sale.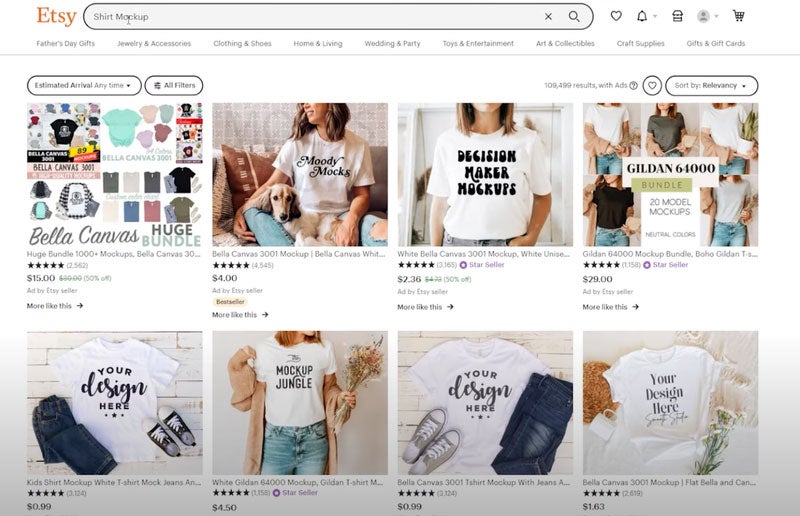 You can also take your own apparel mock-ups using your own cell phone and if you're not familiar with using your phone to take professional photos like that, we have a video that you might be interested in, that is all about taking t-shirt photos with your phone.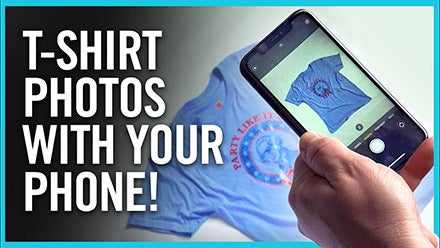 [Related Video: T-Shirt Photo Tips for Product Photography, Social Media, Etsy & Pinterest]
Then, once you have your photos, you can save them to your computer and then upload them into the mock-up section of Easy View when you are ready.
Using these mock-ups in Easy View reduces your financial investment having to prototype or print an example of the garment, or if the style just doesn't sell, you're left with printed apparel.
So this will reduce your financial investment in that aspect.
Mockups can include a lot of different lifestyle elements to help reinforce familiar elements to your audience. Those can be elements like pants or palm leaves, and even shoes or something else that might indicate to your audience the theme of the apparel that you are decorating.
And just remember, the whole purpose of these mockups is to create a fun image that's eye-catching and that's going to have your customers stop the scroll.
These mockups will help you offer pre-sales and limited editions. This is a way for customers to pay up front so that you are not paying for the blank garments and the transfers before your apparel is sold.
Now on social media, it's really important to pay attention to your audience, interests, and likes. You can see what people like and dislike based on their engagement to your posts.
Boosting a post can help more people see it.
Remember, social media channels only show your posts to a certain number of people. Boosting a post can definitely help show your images to more people. You'll want to keep your spend low and try to target your audiences.
For example, if you are selling to a local sports team, you can target specific sayings or you can even target a specific geographic area.
If you're using Facebook Marketplace, it's commission free and a good option if you're brand new. But it doesn't look as legit as an online store or an Etsy shop link.
Social media platforms, like Instagram and Tik Tok, don't allow you to put links in your posts so a good workaround is to use a link in bio service where you can add a link to your bio on your social media page, which will direct your customers to your shop.
Thanks for watching and happy pressing!
BONUS: Download a FREE mock up pack to get started!